© Graubünden Tourismus
At a glance
Largest city: Chur (38'214 inhabitants)
Specialties: Bündnerfleisch, capuns, pizokels, pear bread
UNESCO World Heritage: Rhaetian Railway, St. Johann Monastery in Münstair, Tectonic Arena Sardona
Hotel industry: 695 hotels (45'382 rooms)

Graubünden is the largest canton in terms of area and one of the most popular tourist destinations in Switzerland. It borders three countries: Austria, Italy and Liechtenstein. The region has an alpine character and is a paradise for guests in summer and winter alike.
regions.region_hotels.read_more
Graubünden is the largest canton in terms of area and one of the most popular tourist destinations in Switzerland. It borders three countries: Austria, Italy and Liechtenstein. The region has an alpine character and is a paradise for guests in summer and winter alike.

Nature in Graubünden is characterised by snow-capped mountains and imposing glaciers, green valleys and deep gorges. The people in this region are as diverse as the nature itself. With Swiss German, Romansh and Italian, three of the four national languages are spoken there. Here you will find some of the best hotels in Switzerland. Roughly speaking, the canton of Graubünden can be divided into the following tourist regions:

Prättigau, Davos, Klosters and Arosa
In these world famous resorts there are a thousand possibilities, be it skiing, hiking or biking. The English royal family used to reside in Klosters. In Davos, the highest city in Europe, the World Economic Forum WEF takes place every year. And in Arosa the bear park or the annual humor festival are some of the main attractions.

Engadin
Engadin is a wide and open high Alpine valley with a dry and sunny climate and 322 sunny days a year. Turquoise blue mountain lakes, imposing mountains and glaciers characterise the magnificent landscape. In autumn the larch forests glow golden yellow. Particularly famous is the Piz Bernina mountain with its peak 4048 metres above sea level. The Engadin is divided into Upper Engadin with the posh resort towns of St. Moritz, Sils or Pontresina and Lower Engadin with the villages of Zernez, Guarda or Scuol.

Surselva
Between Flims/Laax and the Oberalp Pass you can experience a diverse region with numerous holiday destinations: Flims/Laax, Brigels, Obersaxen, Vals, Disentis, Sedrun and the first 'town' on the Rhine river, Ilanz. Highlights: the Ruinaulta or Rhine gorge, turquoise Lake Cauma and Lake Cresta or the source of the Rhine with Lake Toma. Disentis and Sedrun are part of the SkiArena Andermatt-Sedrun-Disentis with 30 ski lifts and 180 kilometres of pistes.

North and Central Grisons
These include the regions of Lenzerheide/Valbella, the Albula valley with Bergün, the Oberhalbstein with Savognin and Bivio, the Domleschg / Schams / Hinterrhein, the Bündner Herrschaft with its wine growing areas and the Rhine Valley around the capital.

Southern valleys of Graubünden
Drive from Zernez over the Ofen Pass, cross the Swiss National Park and arrive in the picturesque Münstertal. The monastery in Müstair is part of the UNESCO cultural heritage. From the Upper Engadin, you can also reach the Italian-speaking southern valleys of Puschlav via the Bernina Pass as well as Bergell via the Maloja Pass with the picturesque villages of Soglio and Stampa. The southern valleys of Graubünden also include the Misox Valley with the Val Mesolcina and the Calanca Valley.
regions.region_hotels.read_less
Become a member now
HotelCard has been promoting the Swiss hotel industry for 10 years: While participating partner hotels increase their occupancy rates during off-peak periods, HotelCard members benefit from exclusive rates. Simple and original, a win-win model for everyone.
Highlights in Summer / Autumn
© LAAX: Danuser Gaudenz
Swiss Grand Canyon

It is not for nothing that the Rhine Gorge, Rhaeto-Romanic Ruinaulta, between Reichenau and Ilanz is known as the "Swiss Grand Canyon". The gorge is one of the most spectacular landscapes in Graubünden and is unique in the Alpine region. A hike along the steep cliffs or a ride on the Rhaetian Railway or Glacier Express through Ruinaulta is a unique experience. If that is still not enough of a thrill, you can take a breathtaking river rafting trip through the gorge. Place: Reichenau / Ilanz
More information
Bernina Express and Glacier Express

The world-famous Bernina Express is a UNESCO World Heritage Site and runs from Chur to Tirano. The route crosses the famous Landwasser viaduct, winds its way through several spiral shaped tunnels and reaches the Engadin via dozens more bridges and tunnels. The route continues past beautiful mountain lakes and glaciers to the Bernina Pass at 2253 m altitude. The railway then winds its way down in countless hairpin bends and over the famous circular viaduct from Brusio to the small northern Italian town of Tirano at 429 m altitude, where palm trees and vines thrive. The famous Glacier Express has been connecting St. Moritz and Zermatt in an 8-hour panoramic journey past glaciers and gorges since 1932. While you enjoy a three-course meal, the train winds its way past rugged rock faces through the Rhine Gorge and over the 2033 m high Oberalp Pass, passing idyllic mountain villages.
More information
© RhB
© Engadin St. Moritz Tourismus AG
Swimming in the Lej Marsch

Tucked away in a wooded area near St. Moritz lies the idyllic and natural moor lake Lej Marsch. It lies in the Pro Natura nature reserve, which is why bathing is only permitted in marked areas. There is even a sandy beach at Lej Marsch - in the middle of the Grisons mountains at 1,800 metres above sea level. A picnic by the lake is just as suitable as a barbecue at one of the fireplaces. Place: St. Moritz
More information
Winter Highlights
© Engadin St. Moritz Tourismus: Romano Salis
Cross-country skiing in Engadin

The Engadin is considered one of the cross-country skiing Meccas of Switzerland - thanks in part to the annual Engadin Ski Marathon held in March, the most famous cross-country skiing event in the Alps. Engadin is a cross-country skiing paradise because it is a wide, open valley with plenty of snow and sunshine. Professionals as well as beginners find the best conditions here.
More information
Snowshoeing

More than 2,000 years ago, people were already using snowshoes, i.e. two plates with a large diameter under their feet, to move faster and more effortlessly in the snow. Snowshoe walking has enjoyed great popularity for some years now. In Graubünden there are over 100 official routes for snowshoe fans. Here are some selected trails that are also suitable for beginners:
Unesco tour (Flims-Laax-Falera): 3.4 km, 2.5 hours, ascent: 174 m
Tarasp - Avrona - Vulpera: 3.6 km. 1.5 hours, ascent: 256 m
Easy Trapper (Arosa): 2.3 km, 1 hour, ascent: 40 m
Fontanivas round trip (Disentis): 5.7 km, 2 hours, ascent: 180 m
Palpuogna (Bergün/Preda): 4.4 km, 1h 45 min, ascent: 189 m
© Graubünden Ferien / Stefan Schlumpf
© Graubünden Ferien / Stefan Schlumpf
Sledging / tobogganing

There are almost 100 different toboggan runs in Graubünden - unbelievable! The longest runs are on the following runs:
Preda - Bergün with 6 km length, using the Bernina Express train as a lift
Gnawing scansinas (Flims-Laax-Falera) with 12 km length
Fideriser Heuberge (Prättigau) with 11 km length
Selected places in Grisons
© Arosa Tourismus / Nina Mattli
Arosa / Lenzerheide

43 ski lifts, gondolas and chairlifts ensure that skiers in Arosa-Lenzerheide have no less than 225 kilometres of slopes at their disposal - a distance as long as the one from Zurich to Lausanne! Endless skiing fun is guaranteed. In addition to the classic slopes, the innovative ski area offers even more, such as a snow park, cross-country ski trails and winter hiking paths. Arosa is also home to numerous high-profile events, such as the Arosa Humor Festival and numerous other occasions which the innovative tourism director and his team regularly organise.
Show all hotels in Arosa
Scuol

In the border triangle between Austria, Italy and Switzerland lies the Lower Engadine with the Swiss National Park and numerous picturesque villages such as Ardez, Ftan, Guarda or Tarasp. Right in the middle of it all is the main town of Scuol with its famous thermal spa and no less picturesque Engadine houses, squares and narrow streets. Apart from relaxation in the Bogn Engiadina, Scuol offers plenty of opportunities for excursions, whether on foot, by bike or on skis in the wonderful Motta Naluns ski area.
Show all hotels in Scuol
© Jon Duri Vital
© Chur Tourismus / Foto Bollhalder
Chur

Chur, the oldest town in Switzerland, is the cultural and economic centre of the Graubünden region and the gateway to the Alps. The cosy old town with its 800-year-old cathedral invites you to stroll and shop, but also to enjoy a fine meal or a drink. Chur is the starting point for excursions throughout the canton. Flims/Laax and Lenzerheide can be reached in half an hour, Arosa and Davos in an hour and the Engadin in 1 ½ hours.
Show all hotels in Chur
What our members say
Discover new places far away from mass tourism
"Since I own a HotelCard, we go on excursions much more often again and treat ourselves to the small luxury of an overnight stay in a hotel. Switzerland has so many exciting corners and with HotelCard, we are always discovering new destinations far away from mass tourism."

Sandra & Giuseppe
member since 2020
A great thing for hotels
"As a hotelier, I appreciate the model. Unlike other booking portals, HotelCard does not take commission on bookings. HotelCard members are welcome guests at our hotel and are a real asset, especially in the low season"

Very good newsletter - always eagerly awaited!
"HotelCard does a great job in communicating the great hotel offers. I always eagerly await the newsletter and read it with great pleasure. In these pandemic times, discovering all that Switzerland has to offer has become a real passion for me. I really appreciate the inspiration for special hotels and unique destinations from HotelCard."
Eric Haldimann
member since 2020
Win-win situation for all involved
"I would like to thank the whole HotelCard team for their great commitment. In the meantime, our children no longer live at home and we use the HotelCard offer very often for short holidays. A great thing and I think it really is a win-win situation for everyone. Thank you very much and have fun and success searching and finding nice partner hotels. See you in the next inspiring newsletter."
Siegmund Ksiazek-Stadtbäumer
member since 2011
Already saved over 2,000 CHF - it couldn't be better.
"We have been very satisfied with HotelCard for more than 3 years. We have been able to save over 2,000 CHF so far - it couldn't be better. We are really fans and have often recommended HotelCard to others."
Ruedi Kündig
member since 2017
Share your best HotelCard moments with us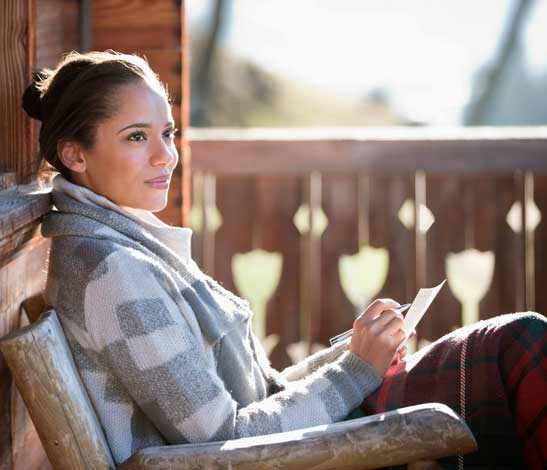 Share your experiences with our HotelCard community so that other members can benefit from your travel stories and experiences with HotelCard. Simply tag your posts on Instagram with hashtags #myhotelcard. We look forward to your contributions!