© Schweiz Tourismus
At a glance
Largest town: Sion (33 000 residents)
Culinary specialities: Fondue, raclette, cheese canapes, the Valais Platter (charcuterie and cheese), "Gesottenes" stew, Cholera pie
UNESCO World Heritage: Jungfrau-Aletsch

'Valais – carved into your heart in stone' is a slogan which will be familiar to many Swiss people. It sounds a little wild, making it an excellent fit with the region's rugged, craggy landscape. 'Rugged' is also a word used to describe the people who live in these mountains, but they soo&nbsp...
regions.region_hotels.read_more
'Valais – carved into your heart in stone' is a slogan which will be familiar to many Swiss people. It sounds a little wild, making it an excellent fit with the region's rugged, craggy landscape. 'Rugged' is also a word used to describe the people who live in these mountains, but they soon warm up and are actually very hospitable.
German-speaking Swiss associate Valais with white wine, fondue and raclette; skiing; hiking and the Matterhorn. In actual fact this bilingual region in southwestern Switzerland has far more to offer than just its famous culinary specialities and classic destinations such as Zermatt or Crans-Montana. Here you will find some of the best hotels in Switzerland. Read on to discover some of its less well-known attractions.
Valais – One of Switzerland's top skiing areas
Valais is not only western Switzerland's largest skiing region but also the country's largest. Its main skiing destinations such as Saas-Fee, Crans-Montana, Nendaz, Verbier, Veysonnaz and Thyon (Les 4 Vallées) and Zermatt attract huge numbers of winter sports enthusiasts. Depending on your requirements Valais' smaller skiing areas can, however, also be worth considering. Beginners or families with small children will, for example, find that areas such as Grächen, Bettmeralp or Saas-Almagell are perfect for their needs.
Warm summers and lots of apricots in Valais
It is hard to imagine that such a majestic winter landscape can also be home to Switzerland's main cultivation area for apricots. In fact, when winter finally ends Valais is one of the country's warmest regions. The region's orchards cover an area of over 700 hectares while it also offers perfect conditions for wine growing, ensuring that, along with Ticino, it is considered one of Switzerland's sunshine paradises.
Valais – Switzerland's leading wine region
In addition to classics such as Pinot Gris, Chardonnay, Sylvaner or Syrah, Valais' winegrowers are also increasingly rediscovering local heritage grapes such as Amigne, Resi, Cornalin, Petite Arvine and Humagne. One-third of all wine produced in Switzerland comes from Valais. The region can thus rightly be called Switzerland's leading wine-growing area.
regions.region_hotels.read_less
Become a member now
HotelCard has been promoting the Swiss hotel industry for 10 years: While participating partner hotels increase their occupancy rates during off-peak periods, HotelCard members benefit from exclusive rates. Simple and original, a win-win model for everyone.
Valais in summer
© Paul Summermatter, Randa
The world's longest suspension bridge
The district of Randa, located in the Matter Valley, is home to a dizzying spectacle – the world's longest pedestrian suspension bridge, opened in 2017. The Charles Kuonen Suspension Bridge is almost half a kilometre long and traverses a gorge which is 85 metres deep in places. The bridge is sited on the "Europaweg" hiking trail, which links Grächen and Zermatt and takes two days to complete. Walkers can enjoy fantastic views of the Matterhorn all along the route.
Location: Randa
More information
From the Moosalp Pass up the Augstbordhorn mountain
This hike, which is considered an insider tip among walkers, begins at Moosalp Pass, with the starting point served by buses running from the villages of Bürchen and Törbel. The route initially ascends the Telli, crossing an old moraine before it becomes more physically demanding. The hard climb up the ridge is, however, well worth it, as there is a fantastic panoramic view across the Rhone Valley from the top. From there, the trail continues across the ridge to the Augstbordhorn mountain with its 360-degree panoramic view of the Valais Alps, helping you forget the tiring ascent. After admiring the outlook, take the trail back to the Moosalp Pass.
Location: Törbel / Bürchen
More information
© Moosalp Tourismus AG
© Photosolution
The impressive circular hike along the "Bisse du Ro" waterway
This approximately 16 kilometre hike is not easy, including a total ascent of 1156 metres along its route. It is, however, a must-do for walkers. Although not heavily frequented by tourists the route is considered one of the most beautiful in Switzerland. The circular hike begins in Crans-Montana and takes you to Lake Tseuzier, before returning to the starting point along a different route. The trail, which follows the old "Bisse du Ro" irrigation waterway, carved into the cliffs in the 15th century, is well secured. The best time for this hike is between May and September.
Location: Crans-Montana
More information
Valais in winter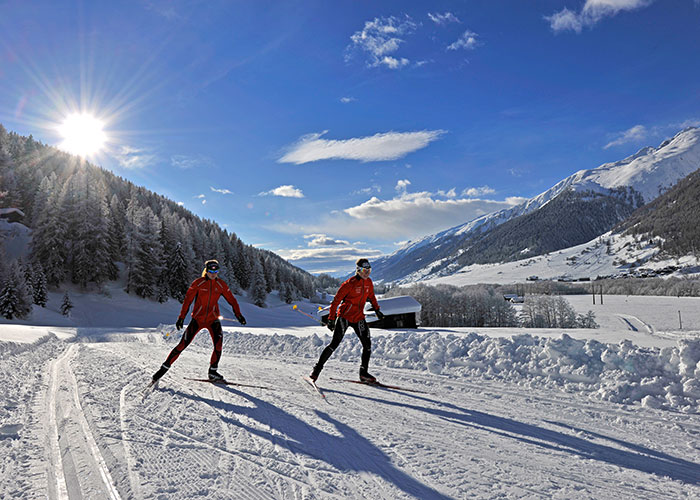 © Obergoms Tourismus AG
Cross-country skiing in the Goms district
One of the most famous, popular and largest cross-country skiing paradises in Switzerland is located in the Obergoms: almost 100 km of trails await winter sports enthusiasts in the north-east of the canton of Valais. The wide high valley is perfect for cross-country skiing. A day ticket costs 16 francs. This includes use of the Matterhorn Gotthard Railway, which provides access to the entire area.
Location: Niederwald, Oberwald
More information
Skating in Brig
Brig has one of the region's most attractive ice rinks. It is located in the town square and laid out every year during the Advent season. Skating in Brig is a particularly romantic experience thanks to the Christmas illuminations which highlight the town centre's pretty houses, giving them a fairy tale atmosphere. 100 % winter magic – for young lovers, families with children and anyone else who loves the festive season.
Location: Brig
More information
© Brig Simplon Tourismus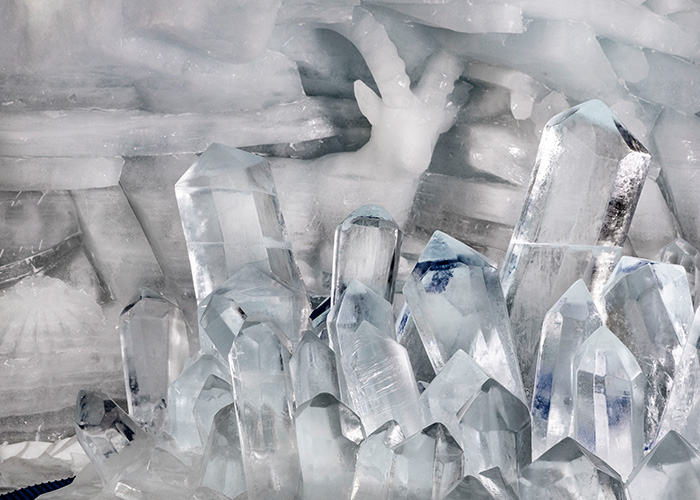 © Zermatt Bergbahnen AG
15 metres underneath the glacier in Zermatt
In Zermatt you can not only admire the Matterhorn from the outside but also experience the eternal ice underneath Switzerland's most famous mountain. A lift takes visitors 15 metres under the glacier's surface to a magical world of snow and ice. Majestic glittering ice sculptures and tunnels through the snow and ice await you. Forget your everyday worries and cares and allow this fairy tale icy underground palace to whisk you away to another world.
Location: Zermatt
More information
Hot spots in the Valais region
© Valais / Wallis Promotion - Pascal Gertschen
Grächen

The Valais mountain village of Grächen is a popular holiday destination for families. It is also known for its many hiking trails, with the network of routes in Grächen and St. Niklaus covering a total of 250 km. Children will love the special themed hikes, such as the Prince's Trail or the Dwarves' Trail. They can also enjoy the area's fun parks and treasure hunts. In addition to this, Grächen is a great winter holiday destination for families, with a small skiing area specifically designed for children and adult beginners.
Show all hotels in Grächen
Verbier

Verbier is a very special winter sports destination. It is international, cosmopolitan and modern but still retains its traditional charm, particularly in the old area, known as Verbier Village, located below the village's tourist area. Verbier is part of the "4 Vallées" skiing area, which has over 410 km of runs and whose highest point is 3300 metres above sea level. Panoramic views are guaranteed – not only thanks to the altitude but also to the skiing area's location. Verbier even offers heliskiing for more adventurous skiers!
© Valais / Wallis Promotion - Yves Garneau
© ricardo gomez angel
Montreux

Thanks to its location on Lake Geneva and the protection of the surrounding mountains Montreux enjoys a mild, Mediterranean climate which is very unusual in the otherwise mountainous Valais region. The Montreux Jazz Festival (since 1967) has made the small town world famous, as has the fact that it provided the inspiration for Deep Purple's hit "Smoke on the Water". In fact, this pretty little town is almost as well-known as Zurich, the Matterhorn or the Jungfrau. Tips – visit the Freddie Mercury statue (he owned a villa in Montreux) and Chillon Castle.
Show all hotels in Montreux
What our members say
Discover new places far away from mass tourism
"Since I own a HotelCard, we go on excursions much more often again and treat ourselves to the small luxury of an overnight stay in a hotel. Switzerland has so many exciting corners and with HotelCard, we are always discovering new destinations far away from mass tourism."

Sandra & Giuseppe
member since 2020
A great thing for hotels
"As a hotelier, I appreciate the model. Unlike other booking portals, HotelCard does not take commission on bookings. HotelCard members are welcome guests at our hotel and are a real asset, especially in the low season"

Very good newsletter - always eagerly awaited!
"HotelCard does a great job in communicating the great hotel offers. I always eagerly await the newsletter and read it with great pleasure. In these pandemic times, discovering all that Switzerland has to offer has become a real passion for me. I really appreciate the inspiration for special hotels and unique destinations from HotelCard."
Eric Haldimann
member since 2020
Win-win situation for all involved
"I would like to thank the whole HotelCard team for their great commitment. In the meantime, our children no longer live at home and we use the HotelCard offer very often for short holidays. A great thing and I think it really is a win-win situation for everyone. Thank you very much and have fun and success searching and finding nice partner hotels. See you in the next inspiring newsletter."
Siegmund Ksiazek-Stadtbäumer
member since 2011
Already saved over 2,000 CHF - it couldn't be better.
"We have been very satisfied with HotelCard for more than 3 years. We have been able to save over 2,000 CHF so far - it couldn't be better. We are really fans and have often recommended HotelCard to others."
Ruedi Kündig
member since 2017
Share your best HotelCard moments with us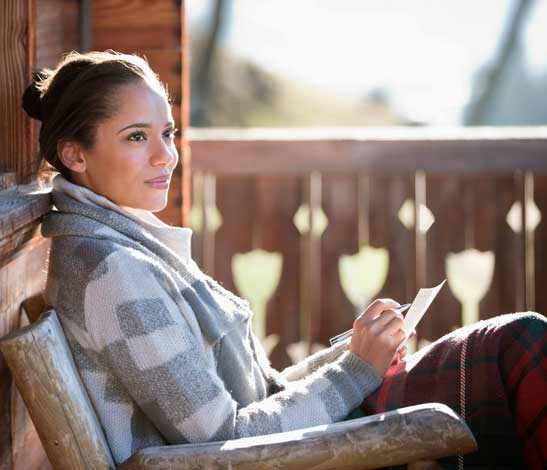 Share your experiences with our HotelCard community so that other members can benefit from your travel stories and experiences with HotelCard. Simply tag your posts on Instagram with hashtags #myhotelcard. We look forward to your contributions!